Type 3 - Aerobic Training Cycle
Wit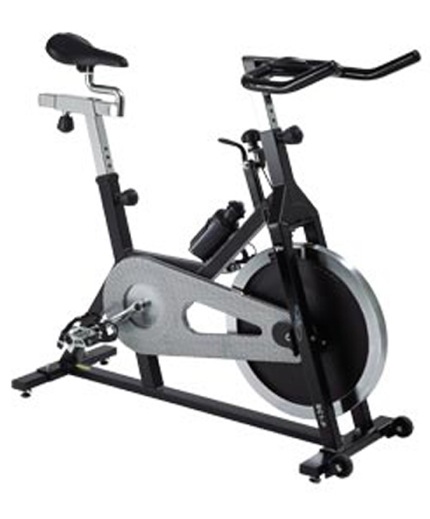 h a similar appearance to the studio cycles used in gyms, the V-fit Group Studio Cycle allows the user to perform high intensity, interval sessions in their own home. A balanced 18kg flywheel provides momentum and inertia while durable mechanical calliper pads allow the resistance to be changed very quickly indeed. The pedals, handlebars and cycling position all mimic the style of a road cycle that gives an authentic exercise experience. Covered in a chip resistant coating, the SC1-P has wheels for easy transport around the house.
Product Features

Frame: Combination 60mm x 30mm Oblong and 38mm Square Tubular Steel Main Frame. 33mm Square Handlebar Uprights and 25mm Diameter Round Tubular Steel Handlebar Frame.

Frame Support: Black Twist-Adjust Front and Rear Frame End Caps.

Frame Finish: Chip Resistant Black Coloured Epoxy Powder Coated.

Cycle Action - Single/Dual/Triple: Single/Dual Single Action. (Forward and Reverse Motion).

Drive System – Chain/Belt: Chain/Belt High Torque Chain with Fixed Wheel Drive.

Resistance System: 18kg Balanced Cast Iron Flywheel with Chrome Rim. Mechanical Calliper Friction Pads with Felt Backing.

Resistance Adjustment: Black Coloured Twist Adjust Micro Tension Controller.

Handlebars: Black Coloured, Contoured Formed Welded Tube with High Density Foam Padded Hand Grips. 3-Position Height Adjustment.

Saddle: Black Coloured Racing Style with Angle Adjustable Fitting.

Saddle Height Adjustment: Height Adjustment Black Coloured Threaded Knobs. 14-Position Height Adjustment (Vertical). 8-Position Reach Adjustment (Horizontal).

Pedals: Black Coloured, Racing Style with Adjustable Toe Straps.

Assembled Monitor: L 107.5cm x W 47.5cm x H 108cm x Wt 51.2kg.

Packed Dimensions: L 111cm x W 30cm x H 84cm x Wt 55.2kg.

Max user weight: 127kg / 20 Stone.